HO HO HO

I got an interesting call in July, 2011. There was going to be a big spread announcing the new season of the TV show HOT IN CLEVELAND. The publicity shots would be for billboards and magazine ads. Would I be interested in making 3 Christmas sweaters? Yes, definitely! Well, the 3 sweaters would be similar, but not alike. They would all be red, with snowflakes on them. There should be some green and a little off white. The snowflakes on each sweater would be different snowflakes. Perhaps one of the sweaters would have snowflakes on the top of the body, perhaps one would have snowflakes on the sleeves, perhaps one would have snowflakes on the bottom. Each one would have a big HO on the front, so that when they were standing next to each other it would say HO HO HO. The word PERHAPS was very important in the epic of making these sweaters. It was design by committee and the instructions changed every hour, or so it seemed. Let's just say there was a lot of conversation before we could even start knitting. First they were all to have the same neck, but that was finally changed to one V, one crew and one boat neck. The ladies, Wendie Maick, Valerie Bertinelli and Jane Leaves, were all different sizes and heights, but the Hos had to line up evenly so they had to be placed in different spots on the fronts of the sweaters. Oh, and did I say we had 2 weeks to make the 3 sweaters? Luckily they had purchased a Blue sweater for Betty White. Lots of aggravation, lots of worrying, lots of knitting and re-knitting but later what a thrill it was to see the billboards all over Hollywood and to see the ads in several magazines. That's Show Business!

TV ADS

It's hard to do work for TV ads because, firstly, they always need it really fast, sometimes in one day, and secondly there are too many people trying to make decisions. There's, at the least, the director, the art director, the producer, the costume designer and all their staffs. All those people lead to very difficult decision making. In spite of that we've done several ads over the years. The requests are always funny. We need a sweater with one sleeve longer than the other. We need a sweater with the name knitted in, but it should be crooked. We need a sweater that looks like the cat clawed it into shreds. We need a purple sweater with a black Christmas tree on it. We need a hat for a dog. It's always something weird.

Three stand out, I think, as the weirdest. One was "we need a sweater for a beer can". O-K, fine, I'll make a sweater for a beer can if that's what you want. "Yes, it should be like a comfortable, old mans, cardigan in a Gray or Heather Blue." Fine, I'll make whatever you want. And I did. I used Brown sheep Worsted Wool. It came out great. The beer can looked comfortable. Everyone was happy.

Another that stands out was a commercial for an Air Bus in England. The story was that on the competitors Air Bus the wait for takeoff was so long that a woman had time to knit something for every person on the plane. She had only 3 colors of yarn with her so each item was the same 3 colors. I had to show the actress how to hold the needles to look like she was actually knitting and then I had to knit up dozens of hats and scarves. It was fun.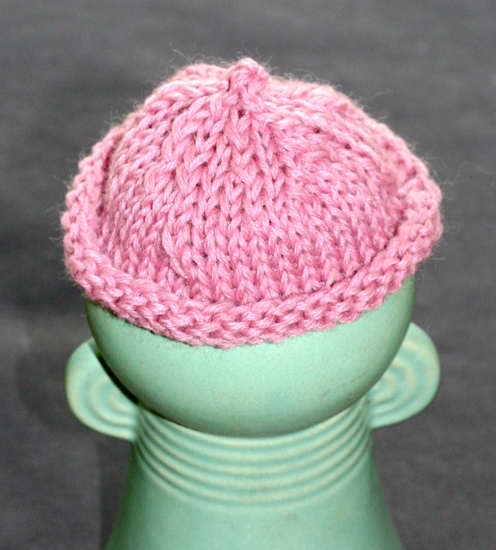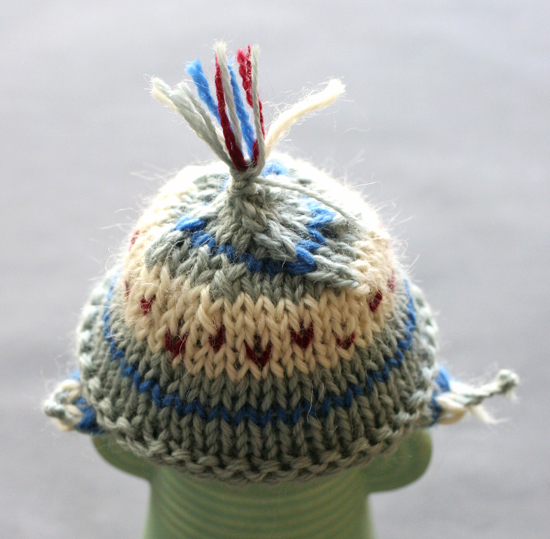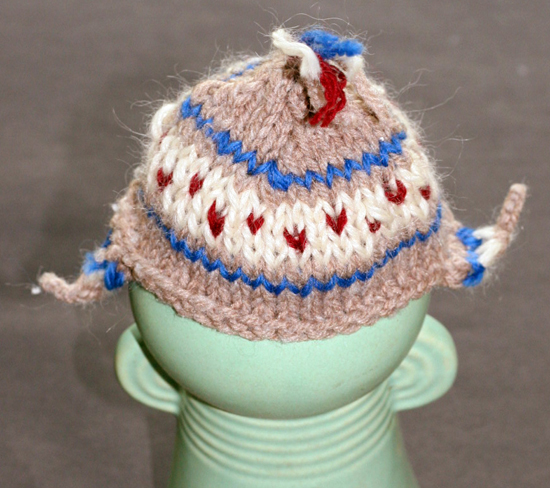 Then there was "can you make a couple of little hats for a commercial by tomorrow?" Sure, how little do you want them? "Well, they're going to be worn by APPLES" O-k, fine. I'll make some hats to be worn by Apples! You might have seen them. They were for Applebee's commercial and, I must say, those apples had some great hats!

That's Show Business!