WATERWORLD

The designer was from England. He knew a lot about knitting and was excited about using knits in different ways.

For the women we made lacey, holey dresses using variegated earth toned rayon boucle from Silk City Fibers. We made yards and yards of very loosely knitted very thin cotton boucle from a now out of business source. It looked like cob webs and they (the costume department) dyed it different colors and ripped it. Those pieces were used on several of the costumes.

For the soldiers we made legs, arms and fronts and backs of tops, using Softball Cotton. Those pieces were then pieced together with knitted cords. All that beautiful work was then ripped, torn and burnt to look like it had been through a war. Having my work "aged" was something that I would get used to. It happens all the time.

I recently saw all those Waterworld costumes hanging on a rack at Western Costume in Hollywood and they had held up beautifully even though they had been in the water, washed and dry cleaned many times.
That's show business!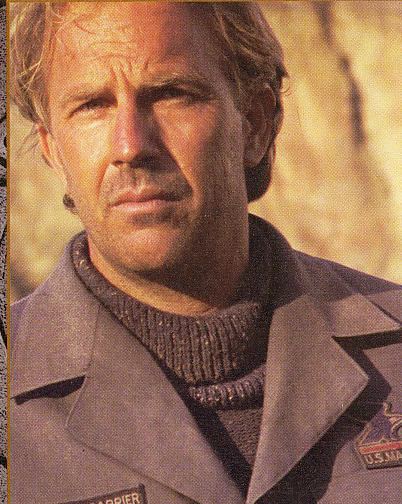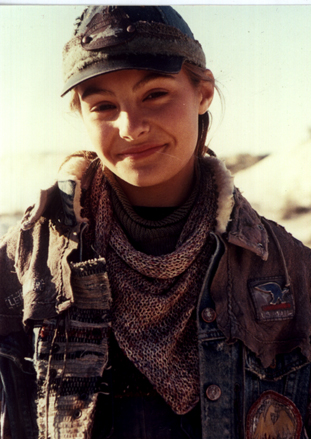 THE POSTMAN

The same designer who did the costumes on Waterworld did the costumes for the Postman.

Kevin Costner's sweater, that he wore in almost every scene of the movie, was made with thin Softball black cotton to which I added a very fine earth toned cotton boucle which is, to my knowledge, is no longer available anywhere. The sweater was a basic turtleneck.

In addition to that we made dresses of that same very fine earth toned boucle. There were many scarves and cowl necks as well.

One day the designer came to my studio and took away lots of perfectly fine, beautifully made sweaters that were on my shelves. The next time I saw them they had been ripped, burnt, cut, slit, shrunk, stretched, patched and pulled.
That's show business!