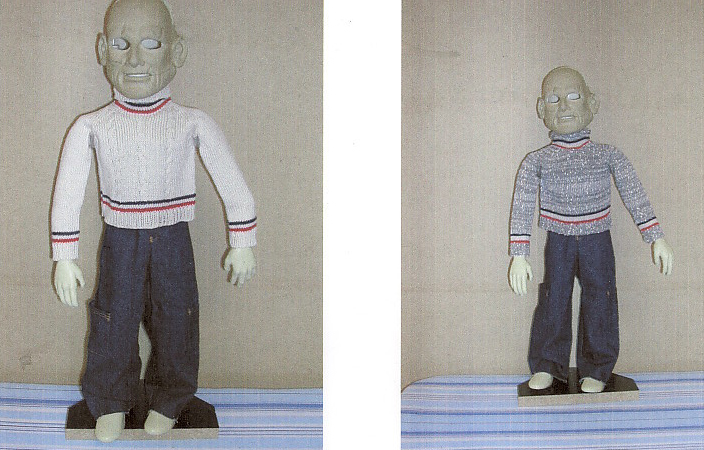 TEAM AMERICA

The "actors" in this movie were puppets. They were a little larger than dolls and they wore very chic, modern clothes.

My job was to make the sweaters small, but they had to look just like ones you would find in the finest stores. There had to be a lot of detail even though they were tiny, about 6" x6".

The yarns had to be thin so the stitches would be small and not overpower the puppets.

At the studio I was amazed to see all the little clothes that were made to perfection to look like designer outfits. This included shoes, hats, purses and all the accessories.

It was easy to dress the puppets. First all the clothes were put on then the heads were attached.

That's Show Business!




SEABISCUIT

Did you know that jockeys wear a little turtleneck bib under his or her silks? I didn't till I was asked to make them in all different colors for the movie Seabiscuit. Each one had to match the colors of the silks. Each jockey wears a different color combination so there were lots of bibs to be made. On the photograph you can see it sticking out at the top above the bow tie.

They were crocheted of 5/2 mercerized cotton from Silk City Fibers.

We also made lots of sweater vests for Jeff Bridges, and a great vintage vest for William H. Macy, but I didn't get any photos.

Sometimes the sweaters get finished on the day the scene is being shot. That's because, for various reasons, the shooting schedule changes. I"m always told when they will need it in relation to the shooting schedule, and I always plan my schedule for it will be done a few days before, but sometimes I'll get a frantic call informing me that the schedule has changed and they need it tomorrow. When that happens,there's a big rush, I put the finishing touches on it, sew the label in and race to the studio to deliver it.

In those cases I usually don't have time to take a photo. Oh well.

That's Show Business!