More Basic Stitches
FISHERMAN RIB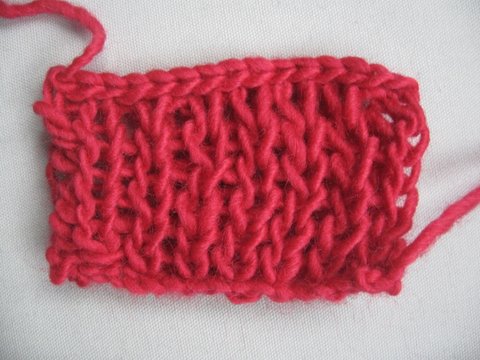 This stitch is the same on both sides.
Cast on an even number of stitches.
Row 1 - Purl all stitches(you will not repeat this row)
Row 2 - *P1,K1B from * to end P 2.
Repeat row 2

K1B - Knit One Below
Insert the right-hand needle into the center of the stitch below the
next stitch on left hand needle. Knit this stitch,, slipping the
stitch above off the needle at the same time. Let the old stitch
drop; it will unravel down 1 stitch.
For the next stitch, P as normal.
Tip: use a smaller needle than you normally would for stockinete
stitch. The stitch fluffs up a bit. Knit at normal tension, not too
loose.
HALF FISHERMAN RIB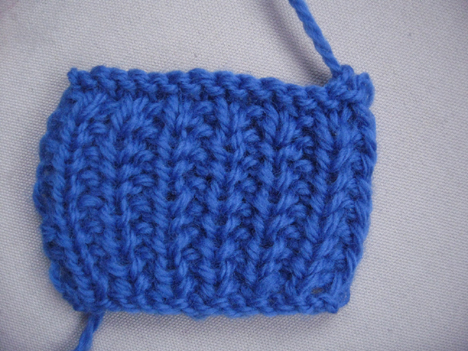 HALF FISHERMAN (RIGHT SIDE)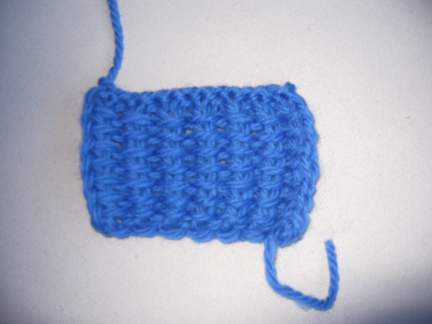 HALF FISHERMAN (WRONG SIDE)
Cast on an uneven number of stitches.
Row 1 Knit all stitches
Row 2 *P1, K1B, repeat to end and end with P1
(see above for instructions for K1B)
These 2 rows make up the pattern.
TIP: This stitch is not the same on both sides. We generally use the K side as the right side, but not always. Both sides are nice looking.
.